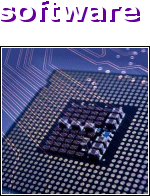 It is always important to have the right software to handle the critical and sometimes tedious functions of your Web projects. The products that are presented here address a range of important activities.
You'll find applications for handling simple to complex online forms, sending email broadcasts, optimizing web pages for search engines, and much more. You can even download free trials of some titles to try before you buy.
CGI Scripts

MasterForm V4 – This versatile form handler makes it easy to gather and process information from any number of forms on your site or on multiple sites across the Web. You control all your information and can route it to several destinations, including e-mail, thank you pages and databases. Master Form V4 is sophisticated yet very simple to use.

Master Recommend Pro – Now you can take full advantage of word-of-mouth marketing by encouraging visitors to spread the word about your Web site. The software is packed with extensive features that can be customized in whatever way you like, and it's coded to protect your forms from misuse, abuse and hijacking.
Search Engine Optimization

WebPosition4 - A powerful suite of tools aimed at helping you increase high quality traffic to your site through higher search engine visibility. The program uses powerful features to help you analyze your Web pages, and modify keywords related to your content. No serious Webmaster should be without this award-winning, software tool. Download a free 30-day trial today and put it through its paces.
TrafficSeeker – This SEO software is robust and flexible, and it comes complete with tools that let you customize your own search engine databases. You can even add, edit and remove engines whenever you wish. Creating meta tags, optimizing and submitting Web pages, and checking link popularity is a snap. Use the free 30-day trial to get a closer look.

SubmitWolf – An easy-to-use Web site promotional tool which simplifies the process of promoting your web pages on the Internet. It can dramatically increase the number of visitors to your web sites by automatically registering them with all the main search engines, directories and link pages. There's also a full database of search engines that accept automated and manual submissions. Take it for a free 30-day test drive!.
Email Marketing

Group Mail 5 – Send your personalized messages, brochures, newslettesr or catalogs to thousands of recipients from your desktop with one click. Import, export, copy, move, merge and purge recipients with ease. This software is fast, powerful and reliable. Try the free edition today, and if you decide to upgrade, your data will be kept intact.

B-Mailer – The premier mailing software for sending out ezines or newsletters to your opt-in lists on whatever schedule you prefer. You can select from HTML or plain text, import and export in a variety of formats, and search your databases to edit or delete subscribers.

Broadcast – This versatile e-mail marketing software simplifies the process of customizing, managing and sending all your e-mail campaigns. It comes equipped with advanced design tools and features that make it a breeze to manage all your various lists. Try the free trial today!
eBook Editor & Compiler

eBook Starter – The first ebook software that functions as an actual WYSIWYG ebook editor. It has everything you need to create, package and publish your own information products on the Internet, including a variety of ebook templates that give your ebooks the look and feel of an actual book, notebook, manual or report. No additional software is required. Ebook publishing doesn't get any easier than eBook Starter.

eBook Edit Pro – Create virtually any type of digital product with this feature rich and secure ebook compiler. Children's books, user manuals and how-to guides are easy to craft and even easier to read. Its HTML format provides you with the greatest amount of flexibility, interactivity and customization options for all your projects.