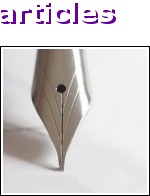 The articles presented here are all originals written by Hermas Haynes and they encompass a range of subjects related to Web business marketing. We hope you find them useful and informative.
You have permission to publish these articles electronically or in print, completely free of charge, provided... they are not altered in any way, all live links are kept intact, and the author's bio is included at the bottom. Enjoy!

Five Essential Strategies for Growing a Profitable Web Business
by Hermas Haynes
Implementing just one of these simple tips can unleash an avalanche of traffic to your website, and drive sales through the roof. Try them all and you'll love what they do for your bottom line.

5 Internet Marketing Myths Exposed
by Hermas Haynes
If you have ever found yourself in a marketing rut because you mistakenly accepted a myth as fact, you'll find this article to be an eye-opener.

Is a Home Based Web Business the Ideal Solution for You?
by Hermas Haynes
You've scoured the Internet in search of a better way to earn a living, and you're impressed with the many accounts of successful home based online businesses. But how can you be sure that this would be the right fit for you?

Copywriting — The Successful Marketer's Secret Weapon
by Hermas Haynes
Whether you're a newbie, a webmaster or a seasoned entrepreneur, you simply cannot ignore the importance of this very valuable skill for transforming your sales pieces into massive income generators.

Do You Know What Your Web Traffic is Telling You?
by Hermas Haynes
Did you know there is a goldmine of data that's left in the wake of every visit to your website? You ought to be taking advantage of these subtle hints to improve your business performance.

Is There an Absolute Best Way to Make Money Online?
by Hermas Haynes
There are large numbers of people turning to the Internet everyday in search of the very best way to make money online. But do they really know what they are looking for, and are they all finding the same thing?

Why Writing and Publishing Articles is a Top 10 Traffic Generator
by Hermas Haynes
Has your website ever seemed as if it's stranded on an isolated URL in the sea of cyberspace, with no visitors in sight? Here's one reliable marketing technique to the rescue.

Should You Start a Home Based Business?
by Hermas Haynes
The application of new technology in the workplace is usually viewed as progress, but that can have a serious backlash if it results in your displacement as an employee. You could consider starting your own home based business, but would that necessarily be the right choice for you?

Are You Enjoying These Article Writing Rewards?
by Hermas Haynes
There is a tremendous clamor for original Web articles to supply the inexhaustible demand for fresh content. Catering to this demand can bring you massive benefits virtually overnight and they can continue for years.

Smart Tips for Putting Your Sales on Autopilot
by Hermas Haynes
If you are not automating certain redundant aspects of your online business, you are not leveraging your time efficiently and you are earning way below your potential. Find out how you can change that and see the demand for your offer soar through the roof.

The Right Words Can Make You Wealthy
by Hermas Haynes
The words you use and how you use them will get you noticed in the real world. The same holds true on the Internet, except that the rules are slightly different when it comes to getting your message out to the public. The right words can be the difference between success and failure.

The Single Reason Most Web Businesses Fail
by Hermas Haynes
It is relatively easy for anyone to start a Web business today and have a good chance to succeed, yet more and more we are seeing businesses fail at an alarming rate. What is the reason for this unprecedented failure and how can it be brought under control?

Overcoming the Advertising Challenges of Time and Space
by Hermas Haynes
In the advertising world, one of the ever present challenges to be overcome is the narrow window of time and space available to deliver one's message to the public. You can dramatically increase advertising response by observing three simple rules.

Harness the Power of Testimonials to Leverage Your Brand
by Hermas Haynes
The customer testimonial is a powerful marketing tool because it describes someone's unique experience with your products and business practices. You can learn how to leverage this power to stimulate further interest in your company and advance your brand.

So You Want to Start an Internet Business, Now What?
by Hermas Haynes
Before you trade in your job or profession for the opportunity to make your fortune online, it might be a good idea to take a closer look at what you are considering. You may not be as prepared as you think you are.

Why Informational Products are Guaranteed Internet Moneymakers
by Hermas Haynes
Imagine spending hours brainstorming the next hot product idea, when in a moment of clarity and flash of inspiration the answer comes to you. But it's not new. It had been there all along, hidden in plain sight by its absolute and obvious simplicity.

Strategies for Improving Your Advertising Results
by Hermas Haynes
You may believe that you have the best mousetrap in town, but if you never place it where the mice are, you will never catch any mice, and you will never know exactly how efficient your mousetrap is... or is not.

These Web Design Blunders Steal Your Profits
by Hermas Haynes
Would you attend an important meeting that could benefit your business, wearing a wrinkled suit, with missing buttons, sweat stains on your shirt collar and scuffed shoes? Probably not! So why are you presenting yourself that way with your Web site?

Offline Promotion - The Other Source for Potential Customers
by Hermas Haynes
Don't fall into the trap of promoting your Internet business exclusively online, you'll be missing many valuable opportunities to attract customers in the real world. Take advantage of these low cost and free promotional strategies to boost your exposure.

Getting the Sale is About Converting Prospects to Customers
by Hermas Haynes
Your Web site statistics indicate that you are getting lots of page views, yet sales are few; your order page is a ghost town and your bank account balance is disappearing. You've got to reverse this trend before your business bleeds to death, but how?

The PDF Approach to Web Business Success
by Hermas Haynes
Very often the difference between success and failure is nothing more than a tiny shift in perspective and the refinement of certain activities. These adjustments can deliver improved efficiency, increase sales and generate bigger profits. So why are so many businesses still missing the mark?

How to Find the Right Web Host and Avoid Costly Mistakes
by Hermas Haynes
Web site hosting providers are not created equally. Hosting packages, features, services, tools and prices vary widely and many prospective customers find the selection process difficult at best. This article offers practical suggestions on how to scout hosting providers and find the right home for your Web site.

Six Ways to Capitalize on the Popularity of eBooks
by Hermas Haynes
The ebook is a unique digital product that consistently enjoys high popularity on the Internet. It is inexpensive to produce, easy to deliver, can accomodate a variety of file types, and usually carries a respectable profit margin. Such versatility creates opportunities for generating exceptional longterm revenue.

Smart Tips For Boosting Your Productivity
by Hermas Haynes
Have you ever had those days when nothing seemed to go as planned? You were busy as a bee all day but when the dust settled you hadn't accomplished much of anything. Well, there are ways to avoid that syndrome and take control of your productivity.